Sun Rainbow Noodles, Vegetarian Food, Noodles, Organic Foods
Model No.:6 pieces
Made In:Taiwan, ROC
Key Features
Hand made all the way,the purest under sunshine
Tastefull resilience,cutting to the best spot
Every bite is full of Mother Nature

Cookingmethods:
The appropriate amount of watertill boiling, add the noodles, and other water boils again, add half a glass ofwater (add 2 to 3 times according to personal taste preferences), about 3 to 4minutes cooked.
Add vegetables and ingredientswith preferences, pot drained water to the sauce and serve immediately.
You can also add differentingredients according to personal preference, to make a variety of Chinese andWestern cuisine.
Ingredient: High-level flour, Salt, Water
Weight: 400g± 5%
Expirationdate: 1year
Madein Taiwan
Life Style Lohas Food Style, Dry underSunshine, No artificial additives, Mother nature, It is the best.
Sun Rainbow Noodles, Sun RainbowSauses,Create Goods On-Line Shop, Group Purchase, Wholesale, Global Marketing,Strategic Alliance
「Love is patient,love is kind」 (Corinthians 13:4)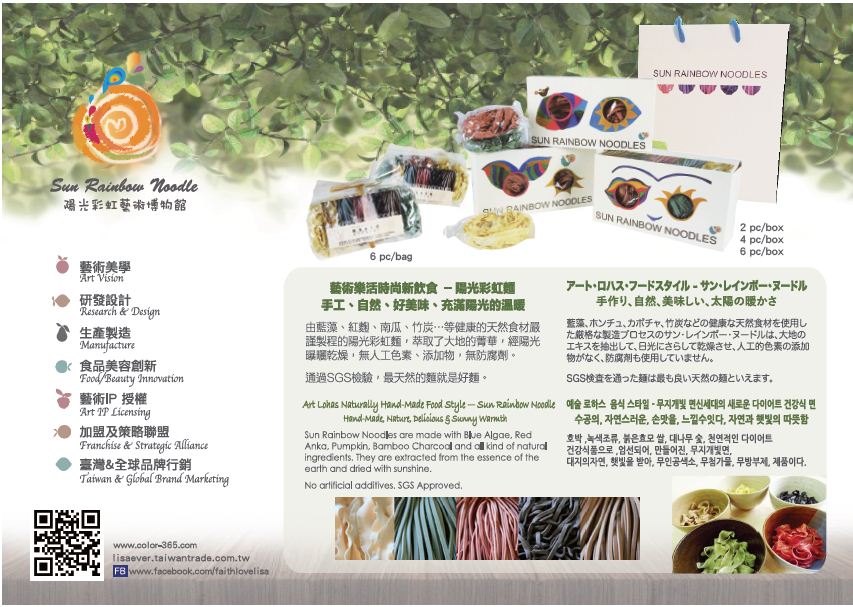 Main Export Market
Asia ,Central America ,Europe ,North America
---