Be Good_Modern Formosan Black Bear Art Restaurant Franchising Service System
Model No.

Modern Formosan Black Bear

Made in

Taiwan
Be Good_Modern Formosan Black Bear Art Restaurant Franchising Service System
Key Features
Be Good_Modern Formosan Black Bear Art Restaurant Franchising Service System
(Sun Rainbow Noodle Art Lohas Food Happiness Project)
Philosophy "Care, Dependability, Innovation & Efficiency"
Brand Value: Art and innovation, natural and healthy, fun and happy, fashion and culture
Combined with the ideas of leading an artistic, organic, fashionable, and technological lifestyle, Be Good is undergoing innovation as time goes by.
The Sun Rainbow Noodles, related ingredients, diet life, and service are integrated,
which breaks the barrier of cultural and ethnic backgrounds
Our goal is to create an ideal life style with love and friendship for people
We hope to collaborate with those who share the same beliefs with us to reach a new level of innovation and contribute to society together.
We are looking for partners
who agree with us and are just like us in holding the same high morals, friendly energy, love, and trust.
The collaboration should be long-term with a non-selfish business philosophy.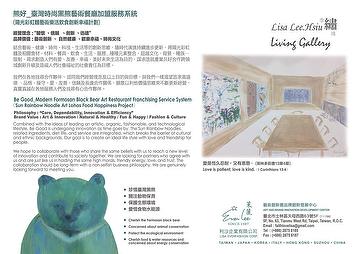 ---
Recommendations
---
Small Order Recommendation