Own brand marketing experience in the Japanese market
05/06/17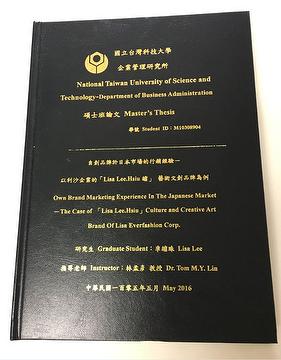 Own brand marketing experience in the Japanese market -The case of 『Lisa Lee.Hsiu』 culture and creative art brand of LISA EVERFASHION CORP.
Before the paper is about to be announced,
Brand development story,
There are many real stories that have not been told ...
"Never give up!" Is the motto of my life.
What was my support force at that time?
This is a sense of mission,
I often have a slogan:
"A country like Japan or Germany
Can do this, Taiwan can do it,too! "
The development of the paper
Thank God's love and blessings!
Thanks to Japanese customers choosing me
Willing to give me the opportunity to be his partner!
Thanks a lot of angels in my life.